Help your best friend be their best self!
Action Canine Training is pleased to announce they will be offering group dog training classes at Lake Emma Animal Hospital. The one-hour classes for dogs of all ages start Tuesday, June 6 and run six weeks for just $200! Which one is right for your pup?
Puppy Prequel Classes (PreK) for puppies 8 – 16 weeks on Tuesdays at 6:30 p.m.
ACT 1 Class (Kindergarten) for puppies 17 weeks – 24 weeks on Tuesdays at 8 p.m.
ACT 2 Class (Beginners) for dogs 7 months and up on Thursdays at 6:30 p.m.
Registration for group dog training classes at Lake Emma Animal Hospital is now open! Please click here.

Our classes focus on giving puppies and adult dogs the skills they need to become well-mannered family members. We'll work on basics like sit, down, recalls, go to your place, loose-leash walking and socialization. We'll also address common questions like crate training, house training, jumping and chewing, and we'll even have a special lesson on preparing your dog for a positive vet visit.

Our puppy classes are modular, so puppies can jump into the 6-class rotation as soon as 8 weeks old. That way they don't miss critical learning time waiting for a 6- or 8-week rotation to end, like other facilities.

Proof of vaccination required. Puppies under 16 weeks will only need to be up to date on vaccinations for their current age. Puppies and dogs over 17 weeks must be fully vaccinated.

No dogs with prior dog or human aggression will be allowed in group classes for the safety and well-being of our clients and their dogs.

We hope to add Canine Good Citizen, Rally, Conformation and Trick Classes soon!

To sign up for classes and learn more, please click here. Spaces will fill up fast, so reserve your spot now!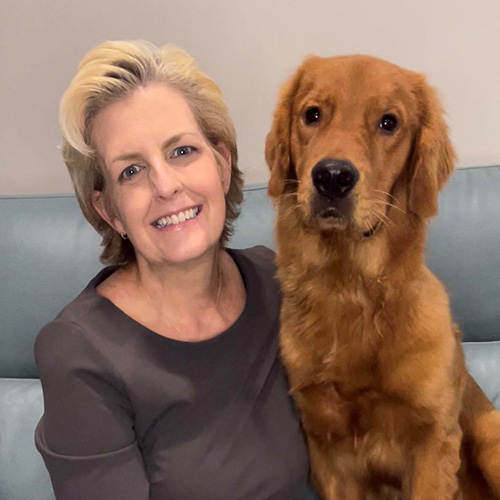 Meet our trainer: Shannon Keim is a Certified Training Partner for Karen Prior Academy (KPA CTP), Fear Free Certified Veterinary Professional (FFVP), Cat Friendly Veterinary Professional (CFVP) and has been training dogs for over 35 years. She is the owner and head trainer of Action Canine Training LLC and is looking forward to bringing positive reinforcement training to our clients and their pups. Shannon specializes in puppy training. She believes the key to a happy and well-balanced puppy/dog is starting early in building a positive relationship and make learning fun for you and your dog.

Shannon has been with Lake Emma Animal Hospital for over 10 years and was a longtime client of Dr. Dee's for over 26 years before becoming part of the team. She started as a client service liaison and then became our animal care manager. When Shannon is not training clients' dogs, she can be found competing in dog sports, including dock diving, barn hunt, obedience, trick, rally and conformation.

Shannon is now turning her passion for dog training into a full-time pursuit. She has been offering Play & Train, Board & Train and Stay & Train and private consultations here at Lake Emma Animal Hospital and is thrilled to be adding group classes in June! If you are interested in any of these services, please click here and she'd be happy to talk dogs with you!