Here at Lake Emma Animal Hospital, we know that pets come in all shapes and sizes—which is why we are proud to offer wellness veterinary care for pocket pets/small mammals as well as avian companions and exotic pets such as reptiles and amphibians.
We only see exotic pets for wellness exams and nail/wing trimming — sick or emergency cases are not within our scope of practice, so if your pet is in need of urgent care, please visit a specialist (locally or University of Florida College of Veterinary Medicine). Appointment availability is limited, so we encourage you to plan ahead and schedule your exotic pet appointment in advance.
Some of the pets we can treat aside from dogs and cats include:
Birds
Guinea pigs
Rabbits
Chinchillas
Ferrets
Hamsters/Gerbils
Rats/Mice
Non-venomous snakes
Turtles/tortoises
Lizards/Bearded dragons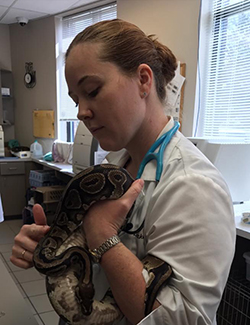 Exotic, avian and pocket pets do take more time and require a different method of handling and examination, and have a slightly higher examination fee than for dogs and cats. If you have any questions about your pet, want to make an appointment, or have one you don't see on the list and want to check if we can help, call us at 407-333-2901.