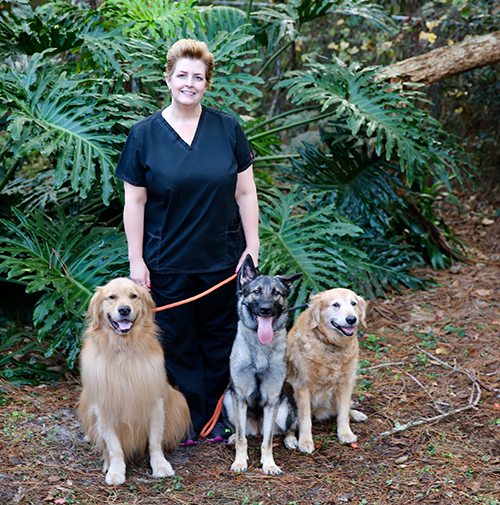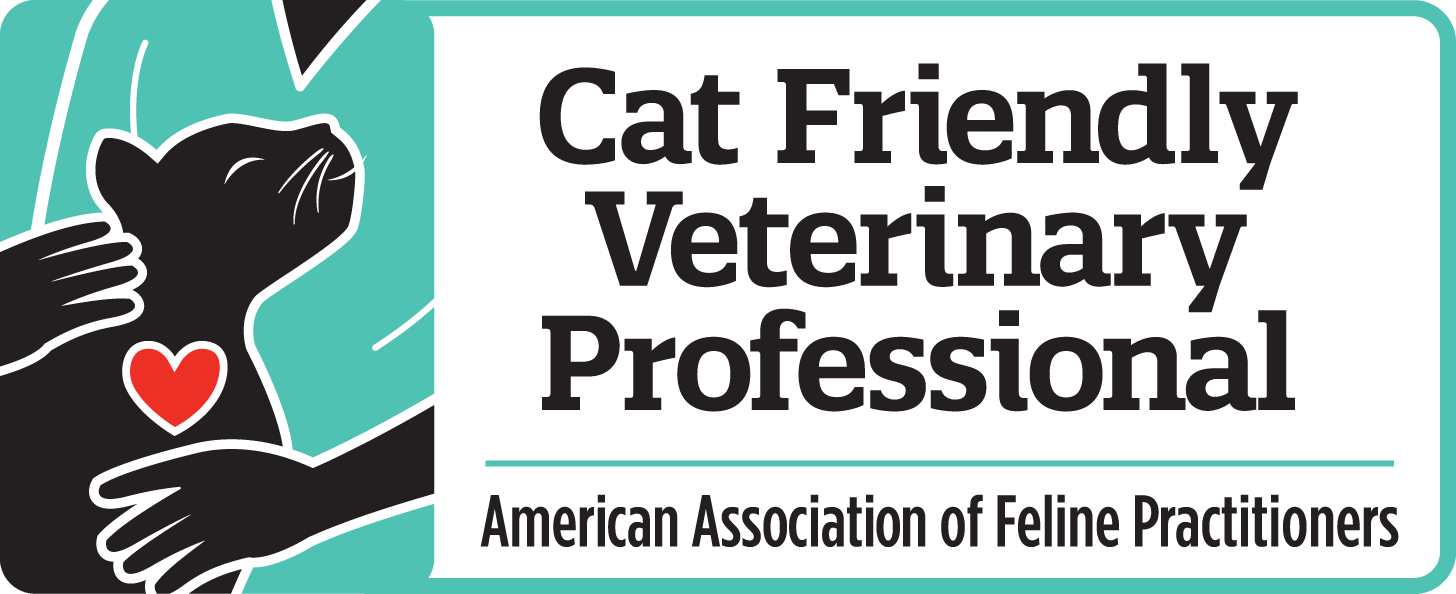 Shannon, CFVP
Animal Care Manager
Shannon was born and raised in Wheaton, Illinois and moved to Florida in 1973. She attended Seminole State for Business and Marketing Management, as well as the Michael Ellis School for Dog Trainers. Before joining us here at Lake Emma Animal Hospital, Shannon was a client of Dr. Dee's for over 20 years. Shannon has been married to her husband, Troy, for 32 years, and they share a 20-year-old daughter, Skyler. Currently, Shannon has 5 dogs and 4 cats. Shannon volunteers for Easterseals, the Muscular Dystrophy Association, her church, and Canine Companions for Independence. Her hobbies include photography (our employee pictures are courtesy of Shannon!), spending time with family and friends, attending concerts and dog shows, visiting the beach, and dog training.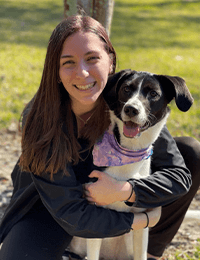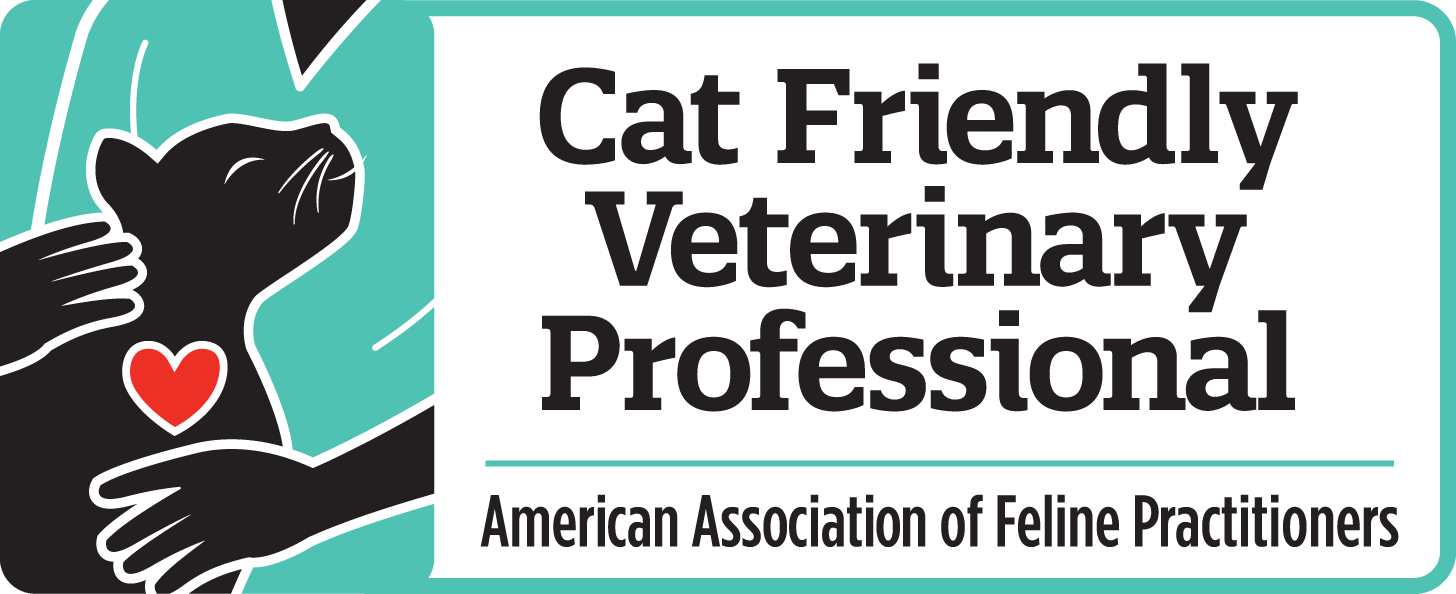 Brittany, CFVP
Animal Care Manager
Brittany is from Naperville, Illinois, where she earned an associate degree in English from the College of DuPage. She would like to study wildlife biology and become a wolf biologist. Previously, she volunteered at wildlife centers. She joined Lake Emma in 2020 so she could work hands on with animals. In her free time, she enjoys reading and writing and cuddling her dog, Shay and cat Hela.
Skylar
Animal Care Technician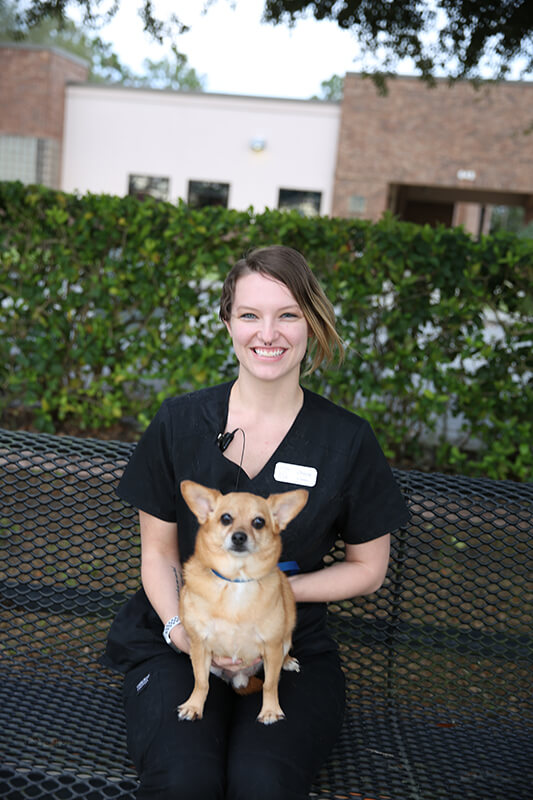 Christine
Animal Care Technician
Christine was born in Fort Worth, Texas, grew up in North Carolina, and now lives in Florida with her husband Jarrod, dogs Milo and Zoey and a cat named Sweet Pea. She has always loved animals and has wanted to work with them since she was a child. While in North Carolina, she volunteered at Opossum Wood Acres. In her free time, she enjoys arts and crafts, movies, puzzles and going to the beach.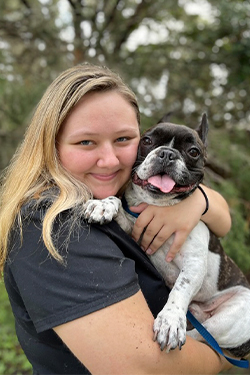 Rylee
Animal Care Technician Kayla
Animal Care Technician
Kayla has lived in Florida her entire life and is an Orlando native. She has an associate degree from Seminole State College in Lake Mary, and she hopes to pursue a business management degree at UCF. She loves working in the veterinary field because she gets to work with animals.
She is a triplet, so she has a brother and sister who are her age, as well as a sister who is nine years older. Her pets include Oliver, a loving and chatty tabby, and four gerbils, Sugar, Pichu, Stewart and Chipmunk. She enjoys spending her free time with friends, or shopping, eating or just watching Netflix at home with her cat. She also loves to go thrifting, fishing, biking or anything outdoors.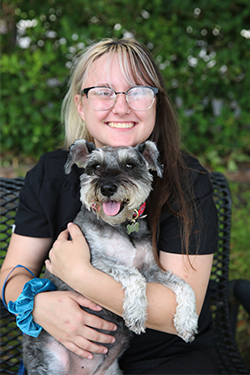 Sam
Animal Care Technician