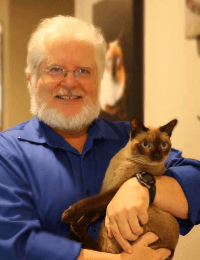 Dr. John J. Dee
DVM
Dr. Dee is originally from New Hampshire, and although he still misses the mountains and the foliage, he has learned to love Florida's sunshine and beaches.
He received his undergraduate degree from the University of Massachusetts and his D.V.M from The University of Florida.
After practicing emergency medicine for several years, he returned to general practice, opening Lake Emma Animal Hospital in 1989.
In his spare time, Dr. Dee enjoys sailing, target shooting, reading, playing computer games, and watching movies.
He shares his home with his son Alex (a UCF Grad Student), 2 Dachshunds Fritz and Lisle, and 2 cats Hitch, and Jumbo.(Best Cat Ever!!)

Email: jjdee@lakeemmavet.com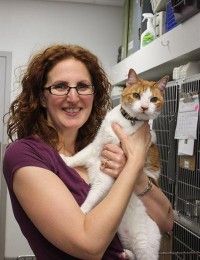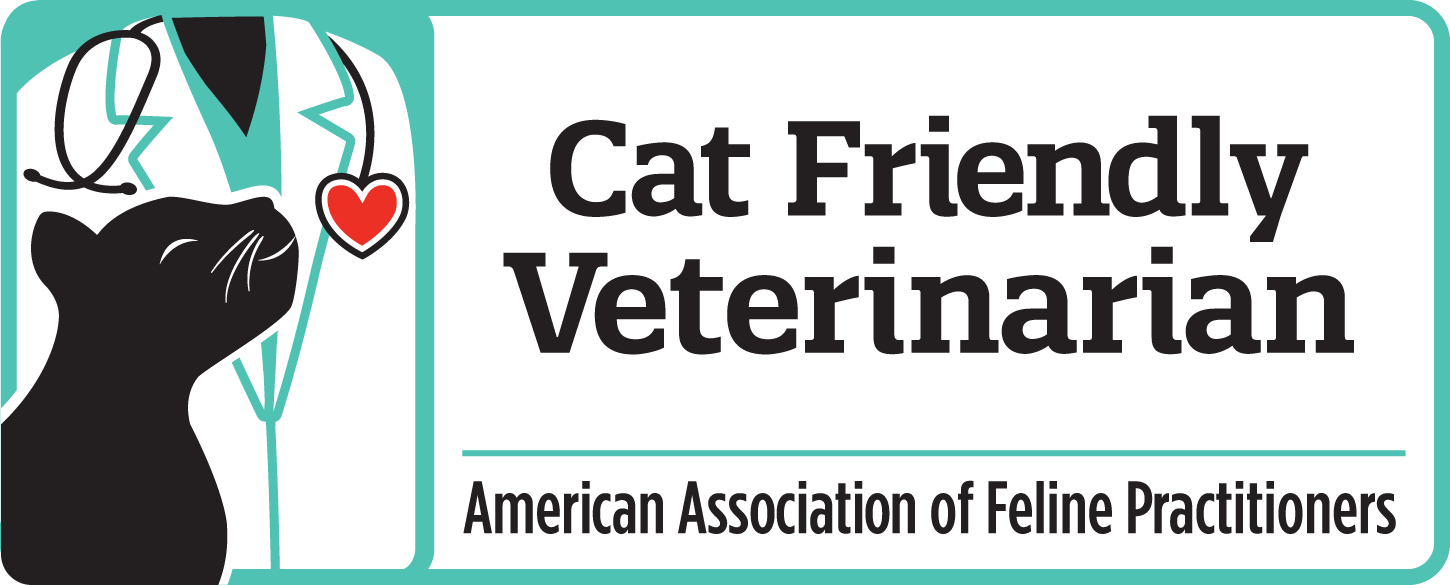 Dr. Tami Groberg, CFV
DVM
Dr. Groberg joined our staff in June of 2011. She graduated from UCF with a BS. in Biology in 1997, and she went on to graduate from U.F. College of Veterinary Medicine in 2001. For 10 years, Dr. Groberg practiced medicine in feline exclusive practices, but she is excited to now be caring for dogs as well. In her spare time she enjoys reading, traveling, anything Star Wars related, and spending time with her husband and their 2 daughters. At home, she has both a three-legged dog and cat, Chewie and Fiona, as well as her other dog and cat, Lilo and Padme. She is pictured with her late cat Nacho, who survived cancer for over 6 years.
Email: tgroberg@lakeemmavet.com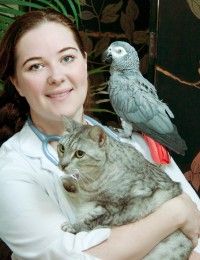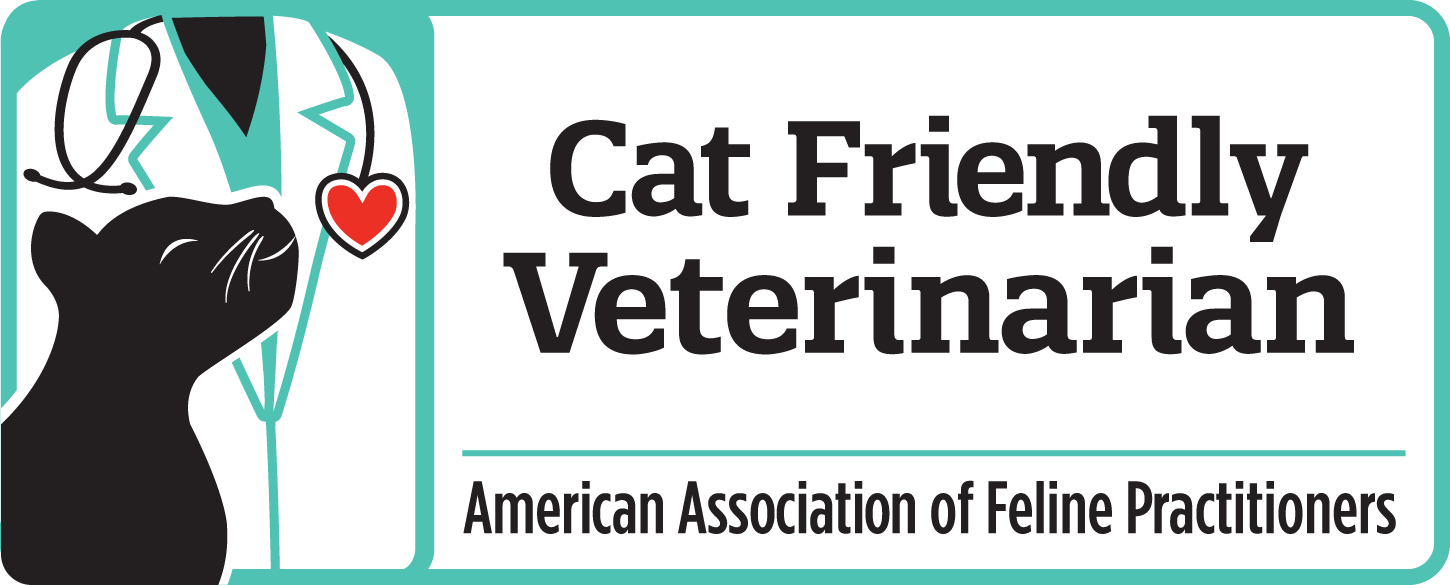 Dr. Caroline B. Hecker, CFV
BVM & S, MRCVS
Dr. Hecker grew up in Charleston, South Carolina in a family of animal trainers and biologists. She got her Bachelor's of Biology at Vassar College in New York, and studied for her veterinary degree in rainy Edinburgh, Scotland. She lives with her 15-year-old African Grey parrot, Quito, a cat, Eris, and a very energetic dog, Colby. She is especially fond of all cats and birds, but loves treating all animals. In her free time she enjoys biking with her dog, birding, and knitting sweaters she can't really use in sunny Florida.
Email: checker@lakeemmavet.com​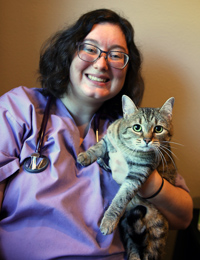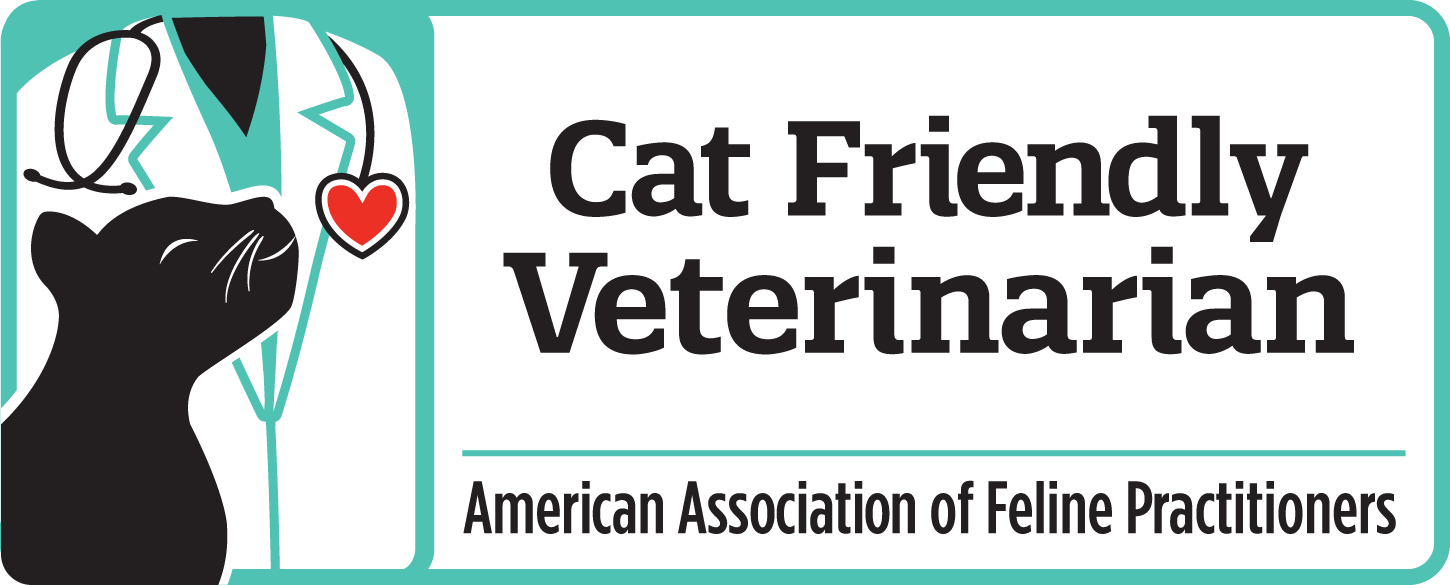 Dr. Elizabeth Wilder, CFV
DVM
Dr. Elizabeth Wilder grew up in Marion, NC, a small town near Asheville. When she was in the fifth grade, her vet let her watch her dog being spayed. She thought it was "the coolest thing ever" and wanted to be able to do that herself someday. To learn more, she shadowed vets at various small animal clinics and at a large animal mobile vet.
She volunteered at the wildlife rehabilitation center at Lees-McRae College, where she earned a degree in biology, cum laude, in 2015. In 2019, she received a doctorate in veterinary medicine from Lincoln Memorial University.
She joined Lake Emma Animal Hospital in February 2021. Her interests include
feline medicine, soft tissue surgery and pediatrics. She enjoys interacting with clients, especially new owners, and abscess draining when it's necessary!
She and her husband Joseph, a business professor, have four cats (Louie, Lemon, William and Bandit) and a paint/Appaloosa named Fancy. In her spare time, she likes to travel and eat out, read, play video games and entertain her cats.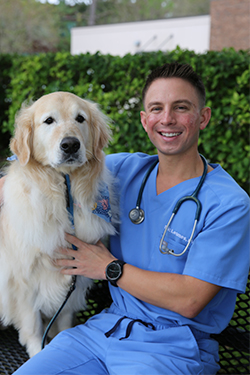 Dr. Eric Lesmes
DVM
A native of Mount Dora and Lake Mary, Dr. Lesmes credits "The Crocodile Hunter" Steve Irwin for inspiring his love of animals and desire to take care of them. He started his career as a veterinary technician and eventually earned his DVM from Midwestern University in Arizona.
Dr. Lesmes says in addition to building relationships with pets and their families, he has a strong interest in internal medicine and surgery. He hopes that through his work he can help strengthen the bond people have with their companion animals.
When he's not working, what Dr. Lesmes likes most is spending time with his wife Kelly, their young son Jack, and their family pets—which include golden retriever Mowgli, and three cats named Tarzan, Midnight, and Ms. Boo. He also enjoys cooking, boating, fishing, and golfing.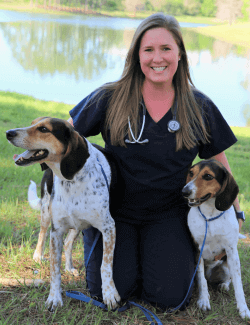 Dr. Tiffany Eastman
DVM
Dr. Eastman grew up in Miami, FL, and was drawn to helping animals from an early age – saving stray dogs, cats and even a rabbit. She earned a Bachelor of Science degree in Animal Sciences in 2006 and a Master of Science degree in Management in 2007 from the University of Florida before graduating from the University of Florida College of Veterinary Medicine in 2013. Despite having a severe needle anxiety and being allergic to cats, she worked as a veterinary technician as an undergraduate all the way through the end of veterinary school. Also as an undergraduate, she worked in the Animal Science research department taking readings and documenting results on the effects body temperature has on milk production in dairy cattle.
Dr. Eastman joined the Lake Emma team as a relief veterinarian in 2018 and became an associate veterinarian in March 2023. Having been a relief vet, she is looking forward to bonding with and building long-term relationships with clients and patients and, as a hound dog enthusiast (especially beagles), loving on as many hound dogs as possible!
She and her husband Christian and their three small children share their home with two bluetick coonhound/beagle mixes, Dax and Lucy, litter mates who joined the family as COVID puppies. They destroyed the back yard, so the grass has since been replaced with artificial turf. They are joined by a Tuxedo cat named Gustavo who was a bottle-fed rescue at Dr. Eastman's first job as a veterinarian. He quickly became a foster failure, and he thinks he's one of the dogs, growling at the door, begging for food and sleeping in the dog pile.
Dr. Eastman enjoys spending her free time with her family visiting theme parks, local festivals and farms, sporting events or exploring local restaurants. She also loves dancing, baking, traveling, and reading but doesn't get to do those things as often as she would like to!